CBI's IRT 2018 Conference
22-23 October 2018
Hilton at Penn's Landing
Philadelphia, PA
Suvoda is proud to sponsor and present at CBI's 8th Annual IRT 2018 Conference.
CBI's 8th Annual Interactive Response Technologies in Clinical Trials – IRT 2018 unites nearly 200 clinical and supply chain pioneers, and is dedicated to solution-oriented discussions and benchmarking for utilizing this powerful system to inform trial decision-making on both a strategic and operational level. This industry acclaimed meeting continues to be the must attend event of the year!
Suvoda will be giving a presentation about Incyte's new innovative trial design that was implemented in IRT:
Tuesday, October 23, 2018
11:05 am EST
CASE STUDY: Using IRT to Implement Bayesian Futility Analysis in Basket Trials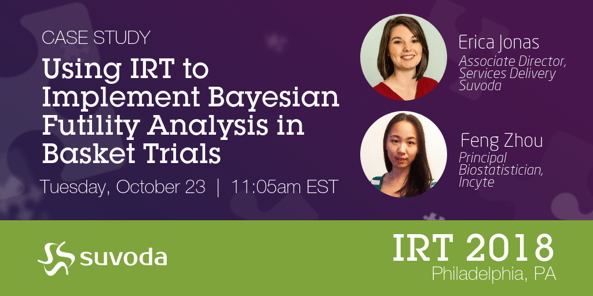 Conference Insights and Takeaways:
Emerging trends, trial designs and complex protocol support
Utilizing temperature management to enhance
supply chain visibility
Approaches to select and implement IRT systems
Approaches to efficient deployment of system change requests
Unique challenges of clinical trials for rare diseases
Register Here
22-23 October 2018
Philadelphia, PA
Related Posts
Topic Requests
Tell us what you want to read about!
Interested in reading about a particular subject? Let us know! We love hearing from readers what to pics they want to learn more about. Just send an email to blog@suvoda.com with your suggestions.