DIA 2018 Global Annual Meeting
24-28 June 2018
Boston Convention & Exhibition Center
Boston, MA, USA
Suvoda Will Be Joining Thousands of Innovators at the World's Largest Life Sciences Meeting
24-28 June 2018
Join representatives from Suvoda, along with 6,000+ professionals in the pharmaceutical, biotechnology, and medical device communities, at DIA 2018.

As the largest, longest-running event in the life sciences industry, this gathering is designed to foster the international exchange of actionable insights to improve health globally through the advancement of lifesaving medicines and technologies.
Event Highlights:
250+ sessions and 12 tracks




450 vendors

Interest-based round tables and networking events
Register Here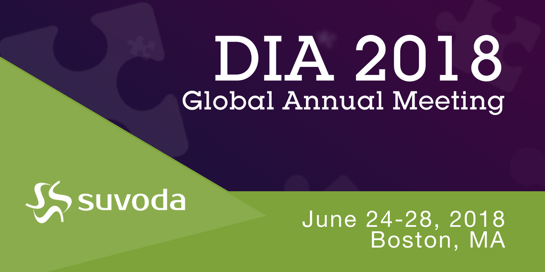 Related Posts
Topic Requests
Tell us what you want to read about!
Interested in reading about a particular subject? Let us know! We love hearing from readers what to pics they want to learn more about. Just send an email to blog@suvoda.com with your suggestions.