Suvoda CEO Receives Minority Business Leader Award from Philadelphia Business Journal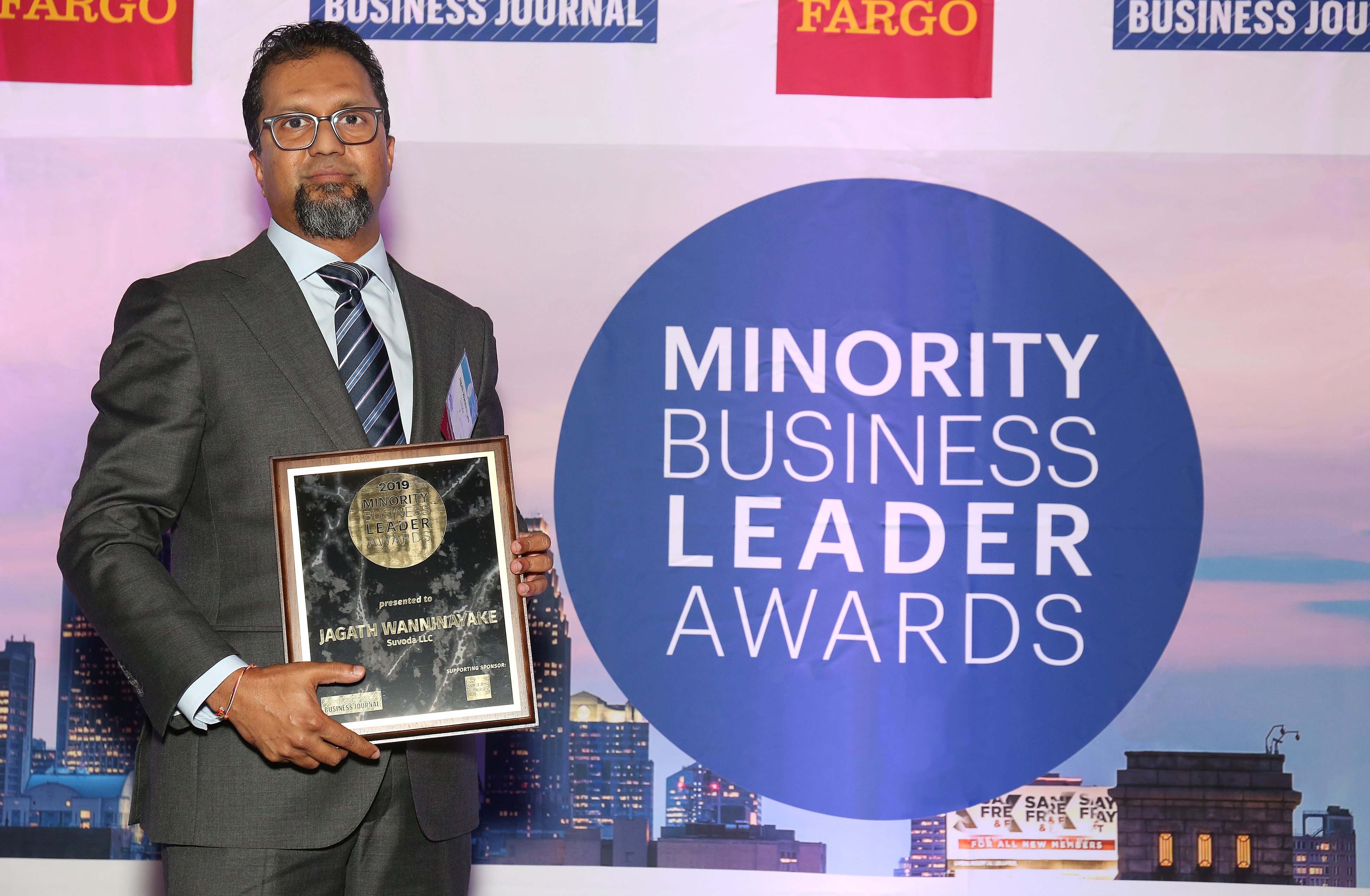 Suvoda CEO, Jagath Wanninayake, Receives 2019 Minority Business Leader Award from Philadelphia Business Journal
CONSHOHOCKEN, PA, September 4, 2019 --Suvoda LLC, a SaaS provider of Interactive Response Technology (IRT) for clinical trial randomization and drug supply chain management, today announced that its President & CEO, Jagath Wanninayake, was recently honored as a winner of the Philadelphia Business Journal's Minority Business Leader Award for the Greater Philadelphia Area.
"I am grateful to be working with a smart, diverse group of people that are passionate about our mission to transform clinical trials by using the power of technology," said Jagath Wanninayake, President & CEO of Suvoda.
Suvoda LLC offers a powerful SaaS solution that optimizes the clinical supply chain and enables the success of complex and innovative trials, helping bring life-saving treatments to patients faster. In just six years, Jagath has led Suvoda from a six-person startup to a multi-national company with over 330 employees in the US and Europe.
"Diversity and inclusion have been integral to our success as a company. Great teams thrive on trust, and I believe that by creating a workplace that encourages and fosters curiosity, acceptance, and inclusion – we can truly make a difference in the world," said Mr. Wanninayake.
"I have been consistently impressed with Jagath's ability to establish an extraordinary corporate culture at Suvoda that emphasizes teamwork, leadership and personal enrichment. He is a visionary leader who has developed a powerful formula for success by providing an empowering, innovative and diverse work environment while also leading the company through rapid sales growth," said Mr. Anuj Goswami, who is a member of the Suvoda board of directors and current partner at Ballard Spahr LLP.
The Minority Business Leader Awards program recognizes the Philadelphia region's top minority business leaders based on professional accomplishments, community leadership, philanthropy, as well as awards and milestones. The Philadelphia Business Journal recognized leaders from a variety of industries in the Great Philadelphia region at last week's evening awards ceremony at the Ballroom at the Ben.
For a full list of winners, pick up a copy of the August 16, 2019 issue of the Philadelphia Business Journal or visit the article online.
~~~
About Suvoda LLC
Suvoda is an innovative SaaS company, focused on transforming clinical trials using the power of technology. Suvoda's Interactive Response Technology (IRT) system solves complex patient randomization and clinical trial supply chain challenges, so that customers have peace of mind to focus on their patients. Suvoda IRT sets clinical trials up for success by offering a variety of configurable and customizable features, powerful reporting, and advanced functionality, built to support complex and innovative study designs. Headquartered in Conshohocken, PA, Suvoda has offices and staff around the world, offering exceptional customer and advisory services to biopharmaceutical companies of all sizes. Learn more at www.suvoda.com.
Topic Requests
Tell us what you want to read about!
Interested in reading about a particular subject? Let us know! We love hearing from readers what to pics they want to learn more about. Just send an email to blog@suvoda.com with your suggestions.