Suvoda Named one of Philadelphia's Best Places to Work 2018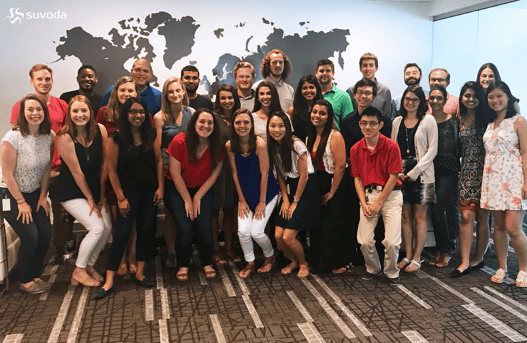 Suvoda Named one of Philadelphia's Best Places to Work 2018

CONSHOHOCKEN, PA, July 5, 2018 -- Suvoda LLC, a SaaS provider of Interactive Response Technology (IRT) for clinical trial randomization and drug supply chain management, today announced that it has been named as one of the 2018 "Best Places to Work" by Philadelphia Business Journal.
"We are honored to be recognized as a top employer in Philadelphia, and I am extremely proud of the collaborative and open community that everyone at Suvoda has created and fostered," said Jagath Wanninayake, Co-founder and CEO of Suvoda. "Employee engagement and well-being are at the core of our mission, and we are passionate about building and nurturing a high performing environment where all employees can grow and thrive."
This marks the first year Suvoda has been named to this list, which recognizes top employers in the Greater Philadelphia Area. The Best Places to Work list released each year by the Philadelphia Business Journal, in collaboration with Quantum Workplace, is a contest that honors organizations that put culture at the forefront and demonstrate a strong commitment to employee engagement and empowerment.
Suvoda has grown significantly since its founding in 2012, currently reaching almost 200 employees across 4 global offices (Conshohocken, Bucharest, Barcelona, and Portland). Throughout this growth, Suvoda has remained dedicated to not only its core values, but to empowering all employees to become the best versions of themselves so they can continue to develop their careers and help clients solve complex challenges in their clinical trials.
This year, a record number of companies were nominated in the Philadelphia area, but only few made the list of top employers.
Official rankings will be formally announced at the 2018 Best Places to Work awards ceremony, which will be held at The Fillmore on August 2nd, 2018. View the full list of winners here.
~~~
About Suvoda LLC
Suvoda offers an innovative SaaS solution for subject randomization and supply chain management in clinical trials. Suvoda's Interactive Response Technology (IRT) system combines the flexibility of a custom-built solution with the speed of a configurable platform using a proprietary modular architecture. Suvoda's IRT solution provides 4-week deployment timelines, best-of-breed functionality, and powerful reporting, coupled with exceptional customer service. Learn more at
www.suvoda.com
.
Topic Requests
Tell us what you want to read about!
Interested in reading about a particular subject? Let us know! We love hearing from readers what to pics they want to learn more about. Just send an email to blog@suvoda.com with your suggestions.