PHILADELPHIA — (April 19, 2023) — A recent survey from Suvoda LLC about attitudes toward digital document review and consent shows that an overwhelming majority of people are comfortable reading and signing documents digitally, however, there is still reluctance when it comes to signing medical consent forms digitally.
The survey from Suvoda, a global clinical trial technology company that specializes in complex studies in therapeutic areas like oncology, central nervous system (CNS), and rare disease, found that a majority of respondents (84% in the United States and 73% in the United Kingdom) indicated they are comfortable signing financial, medical, education and travel documents electronically, yet just half of U.S. respondents and 28% of U.K. respondents said they prefer to sign medical consent forms electronically. This preference holds up across age groups and locations of residency (urban vs. rural).
"Despite the widespread use of electronic signatures in industries where privacy is crucial, such as finance and legal, eConsent is still not a standard practice in healthcare and for clinical trials," said Andrés Escallón, vice president, eClinical Innovation at Suvoda. "There is an opportunity for trial sponsors and site clinicians to adopt eConsent in order to simplify the patient experience, increase data visibility, and improve data integrity."
The COVID-19 pandemic accelerated the adoption of digital clinical tools among patients and clinicians. Tools such as tele-health visits and virtual visits nearly tripled since the start of the pandemic, according to The American Medical Association, and the use of decentralized clinical trial solutions like digital data collection has increased as well.
Also of note, while one-third of respondents said there is nothing that would prevent them from signing a consent form for a medical procedure or clinical trial, the main roadblocks articulated by the remaining respondents were that the forms are too confusing (46%), too long (25%), and not available in the patient's native language (19%).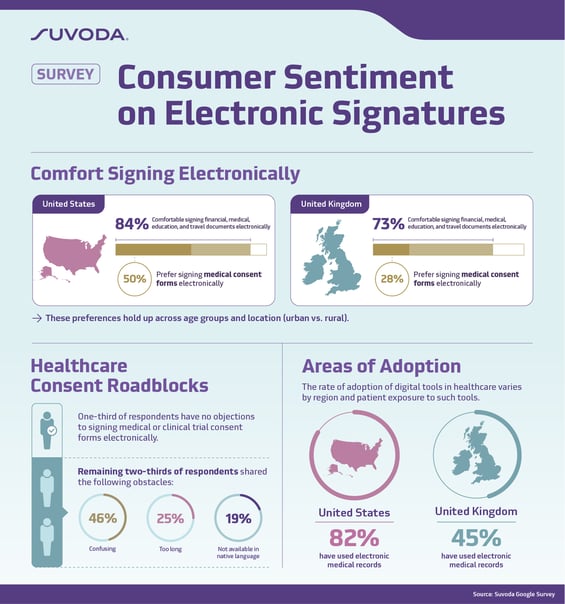 eConsent can address all these roadblocks when used to its full potential. It may offer ways to simplify trial consent documents by breaking them into blocks that are easier to read and understand, and holds the promise of including helpful features such as glossary links, audio-visual tools and/or multiple languages to meet the specific needs of patients and make them more comfortable with the information. For example, eConsent forms can include search functions, and can be made shareable with loved ones and caregivers. They may be adaptable for those who are sight impaired by having adjustable font sizes or possibly feature a "read aloud" function for patients who have difficulty reading or are illiterate without the need to have a caregiver present.
eConsent forms also have benefits for sponsors and study site clinicians, including increased trial participation resulting from more confident and informed patients and possibly eliminating the need for trial participants to make a visit to the clinic to sign a form. Re-consenting requirements resulting from protocol changes in complex trials also are easier to manage by having digital records available in real time.
The survey found that the rate of adoption of digital tools in healthcare varies depending on the region and the exposure patients have to these tools. For example, electronic medical records are used more broadly in the United States, according to the survey, which shows that 82% of U.S. respondents have used electronic medical records, compared to only 45% of U.K. respondents.
"Regulatory requirements differ between the United States and the United Kingdom, which explains some of the differences in electronic record adoption," said Escallón. "It's likely that the more patients are presented with the choice between paper and electronic records, the more comfortable they will become with the digital version."
The Suvoda study was a general population Google survey of 723 U.S. participants and 1,000 U.K. participants. It was conducted in the fall of 2022.


About Suvoda
Suvoda is a global clinical trial technology company specializing in complex, life-sustaining studies in therapeutic areas like oncology, central nervous system (CNS), and rare disease. Founded in 2013 by experts in eClinical technologies, Suvoda empowers clinical trial professionals to manage the most urgent moments in the most urgent trials through advanced software solutions delivered on a single platform. Headquartered outside Philadelphia, Suvoda also maintains offices in Portland, OR, Barcelona, Spain, Bucharest, Romania, and Tokyo, Japan. The company consistently boasts a Net Promoter Score (NPS) of close to 70, far exceeding the technology industry average of 50, and has been selected by trial sponsors and CROs to support more than 1,000 trials across 80 countries. To learn more, visit suvoda.com. Follow Suvoda on Twitter and LinkedIn. 
###
For information contact:

Mara Conklin
(847) 340-6823
mconklin@teamclarus.com
Kathy Zoeller
(312) 485-2422
kathy@mattsonpr.com