Our products
A single clinical trial technology platform
Purpose-built
3
products across the patient journey
1
system built from the ground-up
The Suvoda Platform
A flexible eClinical ecosystem to give you full command over mission-critical, time-sensitive patient interactions.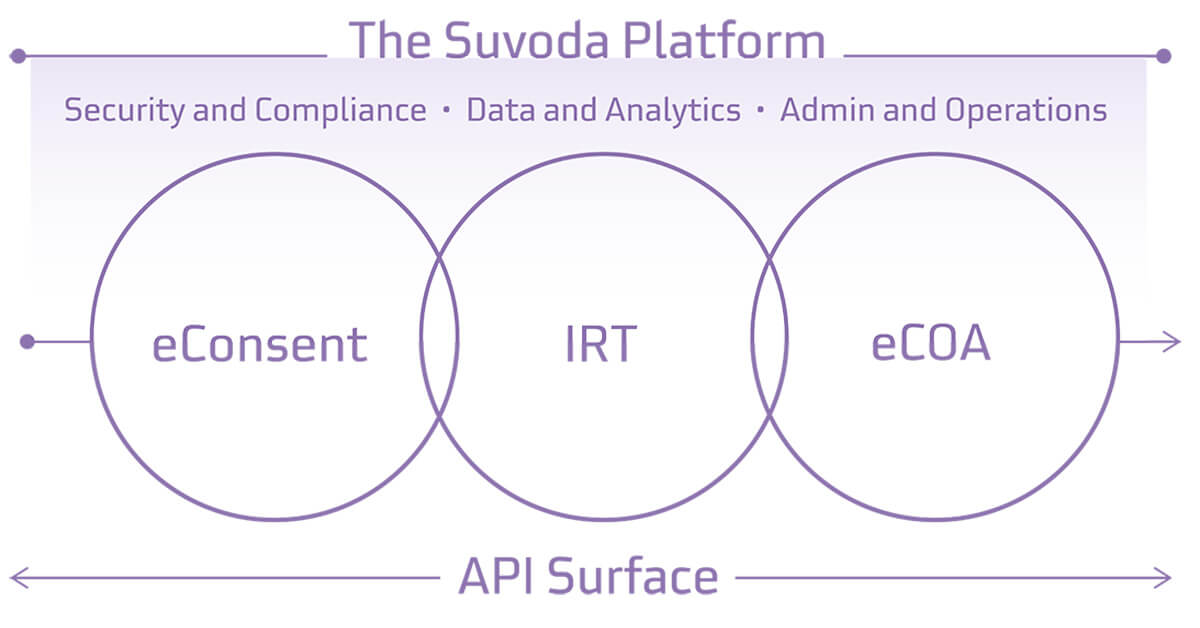 Clinical trials are becoming increasingly complex, and the pressures to complete them faster are intensifying. Purpose-built trial management technologies are an essential tool to manage through complexity efficiently. Sponsors, sites, and patients need systems that work together seamlessly, integrate easily with other tools, can be updated with precision, and are efficiently deployed.
Suvoda's "practical innovation" design philosophy puts the user at the center and leads to technology tools that solve problems elegantly, are practical for today, and are ready for whatever comes tomorrow. Our ecosystem of eConsent, IRT, and eCOA, all built on a single software platform, empowers sponsors, sites, and patients to take command over the patient experience throughout the trial.
Our platform delivers:
Seamless clinical trial experience across eConsent, IRT, and eCOA
Improved data workflow and reduced integrations
Customer trial standardization and updates without disruption
Rapid deployment, even for the most complex trials


PURPOSE-BUILT
Three clinical trial products built on one platform minimizes friction across the user experience for sponsors, CROs, sites, and patients.
Suvoda products - eConsent, IRT, and eCOA - operate on a single software platform. That means products are fully integrated from the outset. The shared backend software infrastructure and intuitive design create an easy-to-use workflow and more secure data sharing across the clinical trial journey - for patients, sites, and sponsors.

Platform features:
Fully integrated product suite with shared user interface across eConsent, IRT, and eCOA
Single sign on
User workflow moves smoothly from one tool to the next, without having to switch systems
Seamless workflow, all centered around the patient
COHESIVE ECOSYSTEM
Advanced software design reduces and simplifies integrations, enabling a more robust eClinical ecosystem.
The Suvoda Platform uses best practice software design approaches to eliminate integration across our three products - and the comprehensive API surface simplifies integrations with other third-party solutions and sponsor systems. Central data management gives you real-time access to information and confidence that your clinical trial data is secure. One system to let you focus on your trial.
Platform features:
API surface allows seamless integration with your in-house systems and other third-party clinical technologies
Central and synchronous patient, drug, and site data management across eConsent, IRT, and eCOA
BUILT FOR TODAY & TOMORROW
Elegant software architecture means your clinical trial technology will always be current.
Applying the proven strengths of B2B and consumer technology, Suvoda protects and leverages your eClinical investment with a platform designed to remember your standards and keep your trials up-to-date throughout the course of the study. That means your trial software is built on what you have done before and can be upgraded to take advantage of the latest advances in trial technology and functionality. Another way to think about it? Future-proofed eClinical programs.
Platform features:
Enhanced flexibility makes mid-study changes and protocol amendments less disruptive
Options to upgrade your system (or opt-out, if you prefer) when updates become available, without losing any customizations
Advanced architecture stores enterprise standards to easily apply to future trials
RAPID DESIGN & DEPLOYMENT
Simplify clinical trial software set up with a harmonized deployment process, a single project team, and low-code/no-code technology.
Clinical trials today are longer than they ever have been and every day counts. Your single Suvoda project team and streamlined deployment across all three products simplifies your overall implementation. The platform allows you to deploy your trial technologies more efficiently and accurately - with low-code/no-code and advanced design tools to power efficient build, deployment, and modification timelines. Even for the most complex trials.
Platform features:
Harmonized deployment process for all three solutions saves study teams time and effort
Low-code/no-code technology streamlines start-up and mid-study changes and improves service delivery
Easy-to-implement customizations and customer standards for more control over trial design, especially for complex trials
A CUSTOMIZABLE SaaS PLATFORM
Elegant user experience, efficient deployment, customizations, and data integrity delivered through cutting-edge software architecture.
Suvoda's clinical trial software architecture leverages the best of B2B and consumer technology platforms. It delivers the intuitive user experience and efficient set up that people expect out of their technology, while providing the data integrity, customizations, and flexibility needed for clinical trials.
Three essential elements make up the platform architecture:
The Foundation: building on cloud technology best practices
Suvoda's platform includes a comprehensive API-surface, using the latest cloud technologies.


The Virtual Partition: our unique approach to customizable and upgradable software
A virtual partition is built into the software architecture, to allow for trial-specific adjustments outside of the core product code. It allows customization, with benefits of SaaS: upgradability, cloud-based deployment, and a shared data layer.


Suvoda's proprietary low-code/no-code tools: making set-up customizations and mid-study changes simpler
The tools allow our teams to:
Leverage Suvoda's library of IRT customizations to expedite implementation timelines and mid-study changes
Create robust and accurate eCOA questionnaires simply and efficiently manage licensing and localization
Client Services
Broad perspective. Keen insight. Calm guidance.
Client Services
Broad perspective. Keen insight. Calm guidance.
Integration
Seamless technology in complex ecosystems
Integration
Seamless technology in complex ecosystems
EXPERT INSIGHT
Trial tech experts share their insights
With E.K. Koh, Chief Product Officer &
Andrew McVeigh, Chief Architect