See How Suvoda Brings Speed, Integrations, and Service to Create a World Class IRT
Download the full infographic [PDF]
---
Services

Clinical trial sponsors are facing increasing pressures every day: to test multiple therapies, to evaluate effectiveness for different patient populations and disease types, and to focus effort and resources on the drugs with the highest potential. Their job is to manage risk in an industry where risk is a defining trait.
That's why high-quality service is so important. Reliable customer service for trial technologies can make the difference between a study running smoothly and on-time, and time-consuming, costly delays that drain budgets and compromise quality of care and treatment for patients.
Excellent customer service is in Suvoda's DNA. And we're really excited that our customers recognize that: Suvoda outperforms competitors in project manager quality and support services quality.
Learn more about our approach to great IRT service.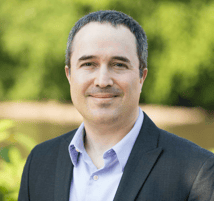 John Ristuccia
SVP of Global Client Services
Suvoda
---
Integrations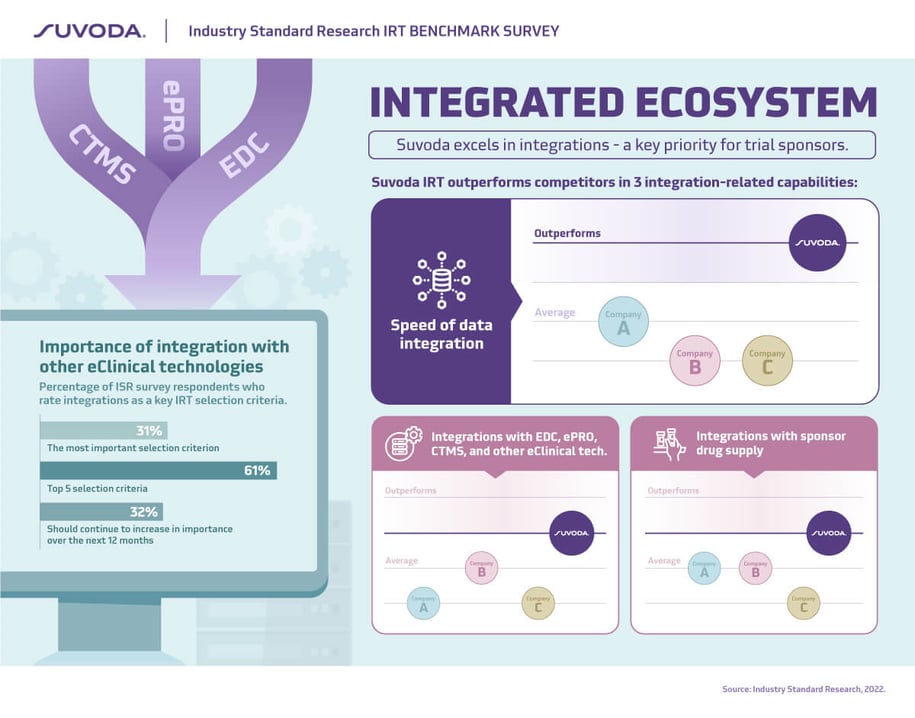 Successfully implementing a complex clinical study requires not only flexibility in the clinical trial software, but also the ability to easily integrate with data systems and sponsor drug supply. It's not surprising then that ease of integration is noted as the most important attribute in selecting an IRT partner…and by a wide margin.

We are pleased that Suvoda outperforms competing IRT providers in three key areas:
speed of data integration; integrations with eClinical tech solutions including EDC, ePRO, CTM, and others; and integrations with sponsor drug supply.

With the introduction of our new Suvoda Platform things are getting even better. Customers benefit from three already-integrated solutions–eConsent, IRT, and eCOA–while our comprehensive API surface reduces integration friction with third-party solutions and sponsor systems.

For sponsors and site users this means spending less time on technology and more time focusing on uncovering new therapeutics to benefit patients.

Learn more about how the Suvoda Platform reduces and simplifies integrations.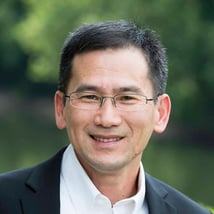 E.K. Koh
Chief Product Officer
Suvoda
---
Speed and flexibility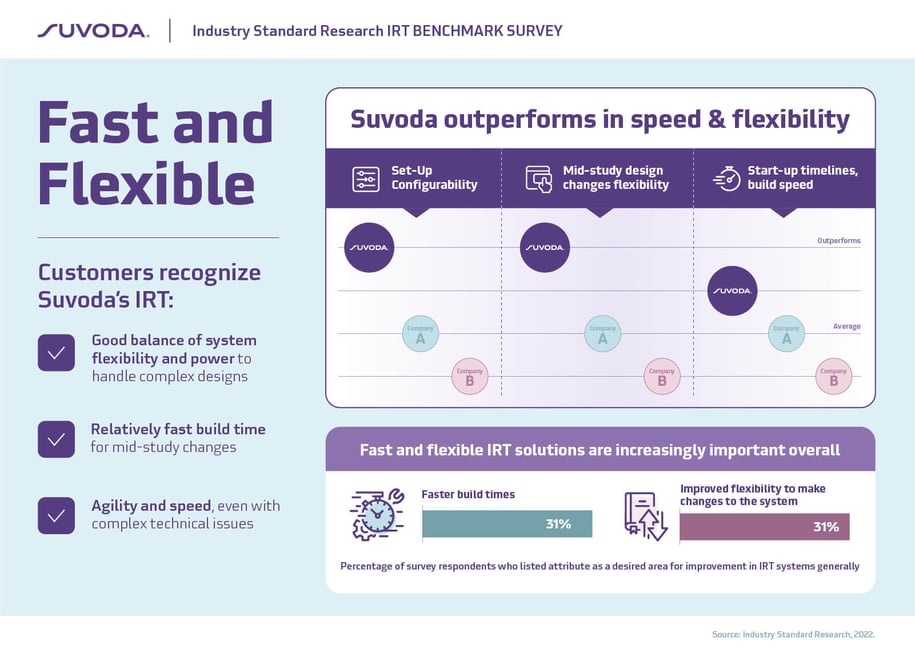 Every clinical trial is unique and time is always in short supply. That's why speedy builds and flexible mid-study design changes top the IRT wish lists for most trial managers.
We built our IRT with speed and flexibility in mind using an advanced modular design that delivers fast and comprehensive study builds and makes mid-study changes less disruptive so trials can continue moving forward and remain on track. At the core of this is our intuitive, patient-centric interface backed by a robust trial management platform that makes high levels of customization more practical.
The result: Suvoda IRT consistently outperforms the competition in set-up configurability and flexibility for mid-study design changes and surpasses the average IRT for build speed and start up time. We do this with industry low error rates—an average rate of 0 Critical UAT defects last year—while meeting aggressive client timelines and maintaining regulatory compliance throughout.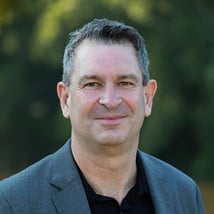 Andrew McVeigh
Chief Architect
Suvoda
---
Overall Excellence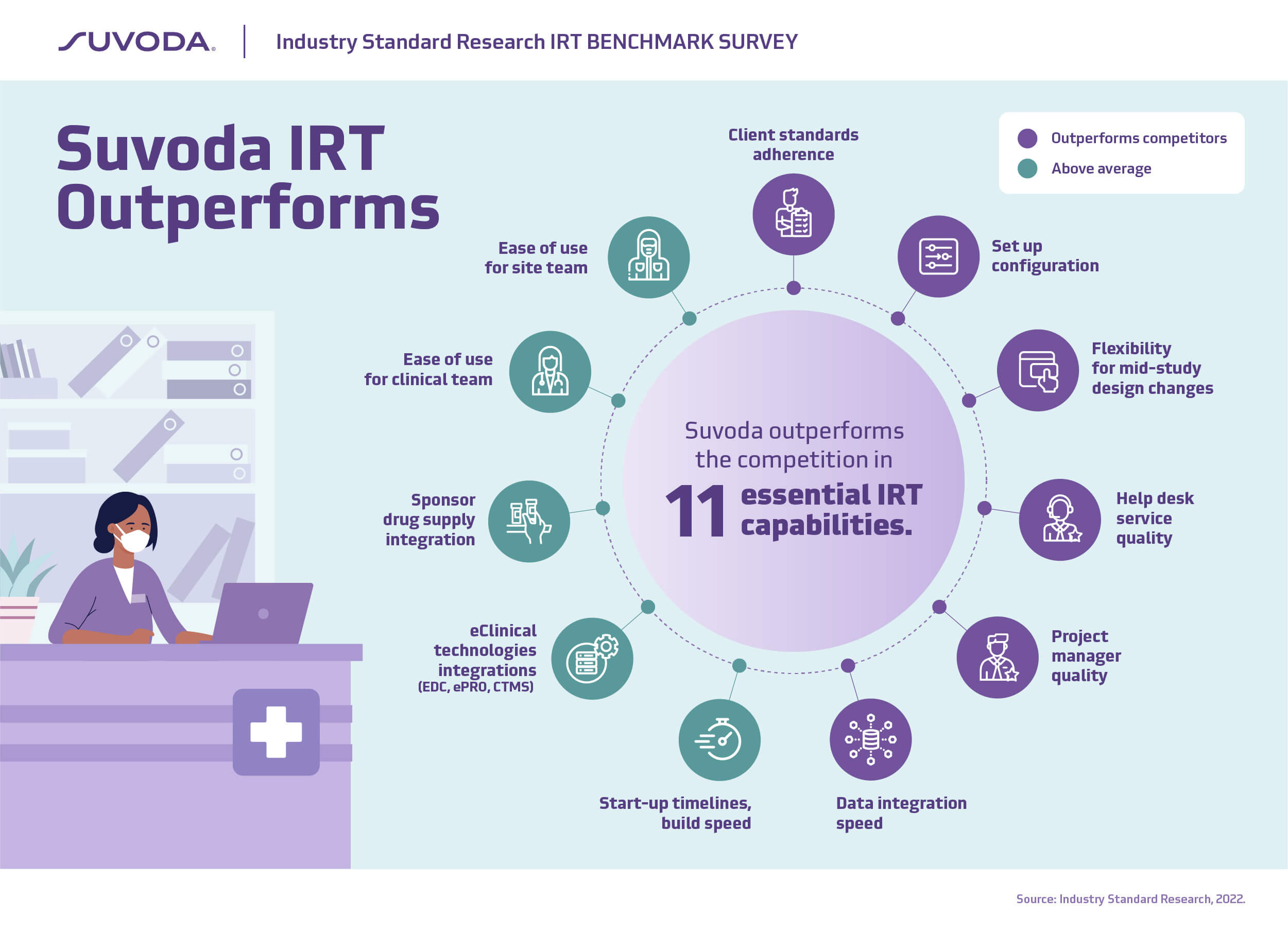 "When it comes to the attributes in an IRT solution that are most important to trial sponsors, Suvoda consistently outperforms the competition, and has some of the strongest customer loyalty in the industry with a customer satisfaction score of 9.1/10. This supports our NPS score of 70, which far exceeds the industry average.

None of this has happened by accident. We've been laser-focused on building robust yet easy-to-use tools to help manage complex clinical trials with less risk and greater efficiency. We have put equal emphasis on building an industry-leading service organization to provide consistent, expert support throughout the life of a trial. From efficient set-up and flexible integrations, to our high-touch support and project management, Suvoda is trusted by sponsors to help them focus on what matters most … patients."
Learn more about Suvoda clinical trial technology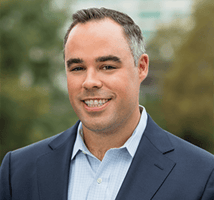 Robert Hummel
Chief Operating Officer
Suvoda