How IRT Can Streamline Early-Phase Oncology Trials Increasing Control and Agility
By Kelly Snow, Head of Strategic Initiatives
The challenges and complexities that are implicit in early-phase oncology trials often slow drug progression through the course of the trial. Managing a longer patient journey, ensuring adequate supply of IP, standard of care, comparator and adjuvant therapies, and managing changing circumstances are all issues that early-phase trial professionals face. These delays make it difficult for individual patients to participate and to continue receiving life-sustaining treatments.
It's these complexities that are driving increased use of technology within early-phase trials. Currently, 41% of the trials we support at Suvoda are in oncology and 51% of those oncology trials are early-phase. Only 30% of planned oncology trials in 2022 are Phase 1*, suggesting that sponsors are starting to see the need for technology sooner than in the past. While not everything can be solved by technology, when it can streamline the complexities, it's well worth consideration.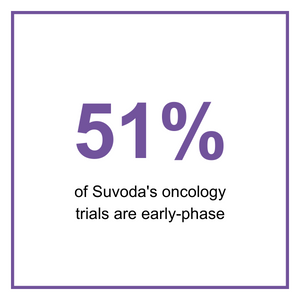 When looking at IRT for early-phase oncology trials, it's critical that the technology is built for flexibility, as well as tailored to the needs of these unique studies. This flexibility is critical for adapting to the changes caused by a variety of factors, such as protocol amendments or when an interim analysis reveals new dosing information. Having a rigid or inflexible system will invariably slow the progression of the trial. Rules and guardrails should be built into the system to limit errors, which ensures you can respond quickly, accurately, and safely to changing circumstances. A flexible IRT system empowers users to take full command of the logistics that make essential and critical moments possible.
How IRT Mitigates Clinical Operation and Supply Challenges
When looking at your IRT options, it is important to be able to adjust how and where the drug is sourced and be ready to shift supply strategies in real time. Your team should also have real-time visibility into data through advanced and ad-hoc reporting so they can make informed decisions and be able to manage necessary changes. Those running early-phase oncology trials will benefit from considering some of these key IRT requirements:
Changing Cohort Requirements. Changing cohort requirements are often challenging to trial professionals, which is why the IRT system should include advanced cohort management. With advanced cohort management, study teams can create new cohorts, assign dose levels, set different visit schedules, and set subject limits within specific disease indications and treatment regimens. These adjustments should be controlled by the study team, without the need for programming, so changes can be implemented quickly.
Multiple Disease and Tumor Types. Many early-phase studies are basket studies, requiring the need to manage multiple disease or tumor types. Disease type management is another aspect of the IRT that needs to be in place from the start. Like cohort management, the ability for study teams to add or remove new disease or tumor types in real-time within the IRT represents another example of efficiency that is beneficial to early-phase oncology trials.
IP Dose and Dispensation Variability. IP dose and dispensation requirements sometimes shift through the course of the study, which is why having dose and dispensation management functionality is essential for the IRT. While you may not have all the information when the first protocol is approved, study teams will have the ability to make changes mid-study. Different configurations can be tailored to the specific design of your protocol to handle instances like dose interruption at scheduled or unscheduled visits, as well as the option to add new doses and indicate the quantities for each drug type that should be dispensed for that dose. It gives you confidence that the system is dispensing drugs appropriately based on any number of complex factors.
Complex Sourcing for IP, Comparator and Adjuvant Therapies. Having comparator and adjuvant therapy management in your IRT will allow you to account for different sourcing needs of medication or ancillary supplies on a site or country level. When managing drug supply, you can switch from local sourcing of comparator and adjuvant therapies not managed by the IRT, to central sourcing where shipping and dispensing is done through the IRT. This can then be included in a predictive resupply functionality that will help control costs by reducing drug waste, as well as ensure you have what is needed for patients when it is needed.
Unknown or Variable Cycle and Visit Schedules. It is common to have unknown or variable cycle and visit schedules in early-phase oncology trials, which is why having control through dynamic visit scheduling and cycle expansion functionality is needed in the IRT. The study team can have the necessary control to automate cycle expansion in variable visit schedules and update patient visit schedules immediately through the IRT, all without programming changes. Rules for all cycles and visits are configurable within the system, giving study teams needed flexibility and control even if the study team is confident in the duration of the study.
As you can see, a well-designed, flexible IRT system can streamline and provide insight and control over early-phase oncology trial activities, helping to reduce waste, better manage costs, and most importantly adapt to inevitable change caused by protocol amendments. Flexibility is among the most important aspects of your IRT selection. Having advanced levels of flexibility in your system allows you to adapt to changes as they come without the need for additional programming, which helps you to maintain your timeline, control your costs, avoid delays, and keep patients in your trial. This gets novel, life-sustaining treatments to market faster for the patients that need them the most.
Challenges are always going to exist in oncology and in this industry. This is why we must work together to keep patients top of mind, create efficiencies through smart technologies, and ensure mission critical and time-sensitive moments in oncology trials are easier to manage.
Bonus: Watch Kelly's full presentation on streamlining early-phase oncology trials delivered at the 2022 Clinical Operations in Oncology Trials conference in San Francisco
Learn more about what Suvoda's IRT can do to help streamline your early-phase oncology trials.

*Source: GlobalData, Pharma Intelligence Center [Accessed December 20, 2021]