By Giada Corvino, Service Delivery Manager
As clinical trials continue to grow more complex, the technologies designed to support them, like Interactive Response Technology (IRT), are also evolving to keep pace with changing needs. As a core element of many trials, IRT takes on the heavy lifting of complex drug and patient logistics. IRT system functionality has expanded to meet the demands of increasingly complex trial protocols. With this complicated makeup, having a dedicated services team of trial experts ready to help navigate complexities and resolve challenges can make a significant difference in trial success.
When choosing an IRT system, study organizations typically look at numerous factors such as user interface, data integration capabilities, and time to implementation. And while these are certainly relevant considerations, some study organizations miss the vital element of customer service in their evaluation. Considering the complexity an IRT system manages, as well as the inevitable change that comes during trial conduct, it's a good idea to think about the people who will support you during the course of the trial. Are they competent? Responsive? What does service excellence look like? This blog covers some of the critical areas to look at when evaluating a service team.
The Essential Elements of Service Excellence
Excellent service teams act as an extension of the study team, managing issues that arise from a position of deep understanding, both of the protocol and IRT, so the study teams can remain focused on the trial and patients. When evaluating aspects of excellence in service, these are some of the essential factors to consider.
Personalized
When reaching out to seek help from the service team members of an IRT provider, it's good to have someone on the other end that knows you and understands your protocol inside and out. Protocol knowledge is critical to timely issue resolution. About 80% of Suvoda's service requests are protocol-specific, which is why we take continuous learning and training seriously. Having a team that is comfortable with protocol-specifics ensures they are prepared to confidently and efficiently solve the most complex challenges in a timely manner. In an ideal setting, having a personalized experience with a dedicated team of experts throughout the life of your trial can be highly valuable. In fact, our service delivery teams are assigned to an IRT project throughout the entire life cycle and are able to guarantee that personalized experience.
Available
Clinical trials often require around-the-clock support, especially global ones. Be sure to look for an IRT vendor that offers 24/7 support services that are not only available, but can bring resolution to issues on your schedule. Its also important the vendor offers support in multiple languages to accommodate trials from around the world.
Responsive
When issues arise, timely resolution maintains trial progress and provides a sense of calm. When evaluating a service team, seek out service level metrics such as average resolution time. This helps study teams know what to expect and that their issue will be resolved in a timely way. For instance, Suvoda maintains a median resolution time of <25 min for high-priority help desk tickets. To achieve this, support teams are well-trained and highly knowledgeable in the specifics of the trial protocol. A well-thought-out process goes a long way toward supporting a responsive team.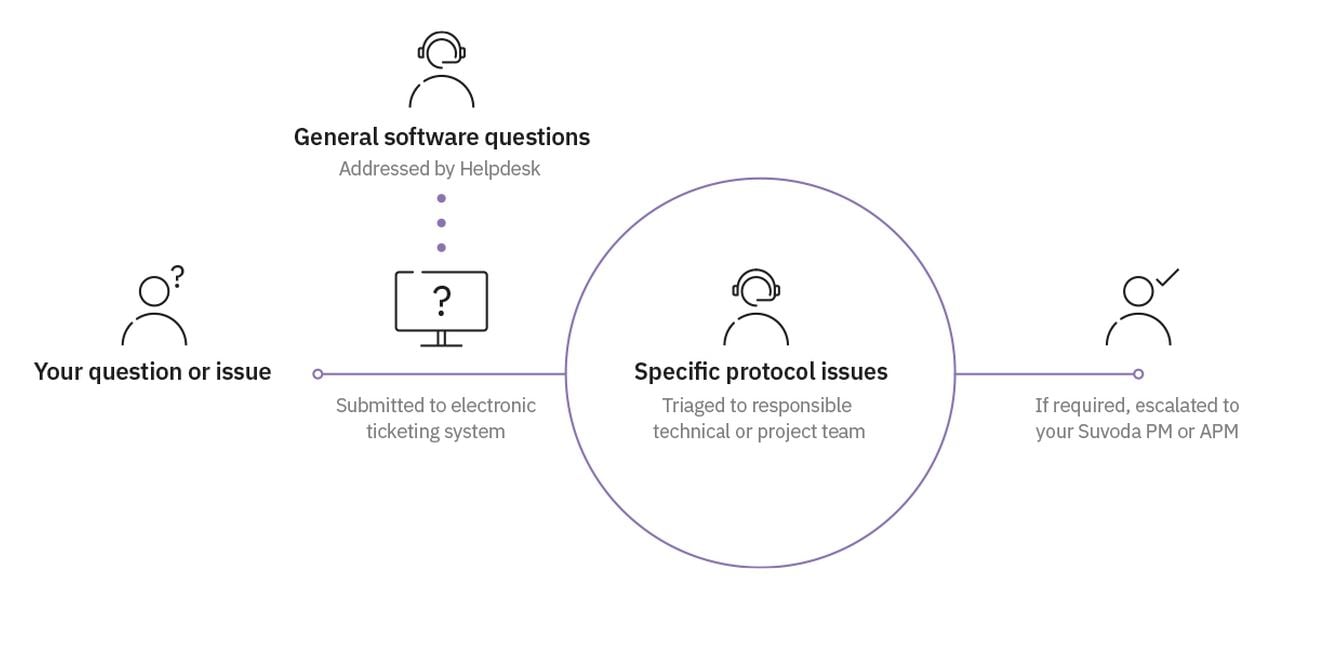 Consistent
From sponsors and CROs to study teams and sites, every person should receive the same service experience. Consistent service comes from a culture of shared values that are more than words on paper. They are part of the core structure and daily process of the organization. Consistency is a key factor in the assignment of a dedicated team at Suvoda. This team of experts is highly knowledgeable about the details of the trial protocol and remains with the study throughout the trial lifecycle.
Knowledgeable
With the complexity of trials increasing, it is beneficial to seek a client services team with deep functional expertise, knowledge of specific protocols, and a holistic understanding of the trial process. A team with these traits will be better positioned to look at the full scope of the issue and leave no stone unturned. At Suvoda, 100% of the services team is experienced with complex trials.
Problem-Solving
It's also important to look for a team that is made up of natural problem solvers who communicate well. To be effective in solving customer problems, service and support teams need good listening skills combined with the knowledge to ask the right questions. This enables careful assessment of the situation so the right solution can be offered. Because Suvoda is supporting some of the most critical moments in critical trials, every employee is well-trained to identify and resolve issues in the moment.
There are very tangible benefits to selecting a vendor with a strong, service-oriented mentality towards customers. With consistent expertise and personalized service available around the clock, study teams save time better spent focused on patients.
Learn more about Suvoda's approach to service excellence.
---
Author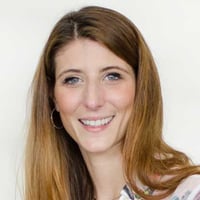 Giada Corvino
Service Delivery Manager
Suvoda