By Zach Hales, Director, Product Management
In the dynamic landscape of drug development and evaluation, patient-centricity is now well established as a pivotal element in driving successful clinical trials. Research has shown that drugs developed using patient-centric designs are nearly 20 percentage points1 more likely to be launched than those without such considerations. Recognizing the value of patient input, the Food and Drug Administration (FDA) has endorsed patient-centered drug development to inform clinical and regulatory decisions, facilitate patient enrollment, and communicate most effectively with patients.2
Despite this growing emphasis, patient-centric design processes and technologies that make it easier for patients to participate can also be operationally challenging for study teams to implement. The ultimate goal of patient centricity remains constant: making clinical trials more frictionless for patients. Minimizing operational complexity to make it easier for study teams to do their jobs is a vital step towards achieving that.


Understanding operational complexity in clinical trials
Operational complexity in clinical trials encompasses various elements related to study implementation.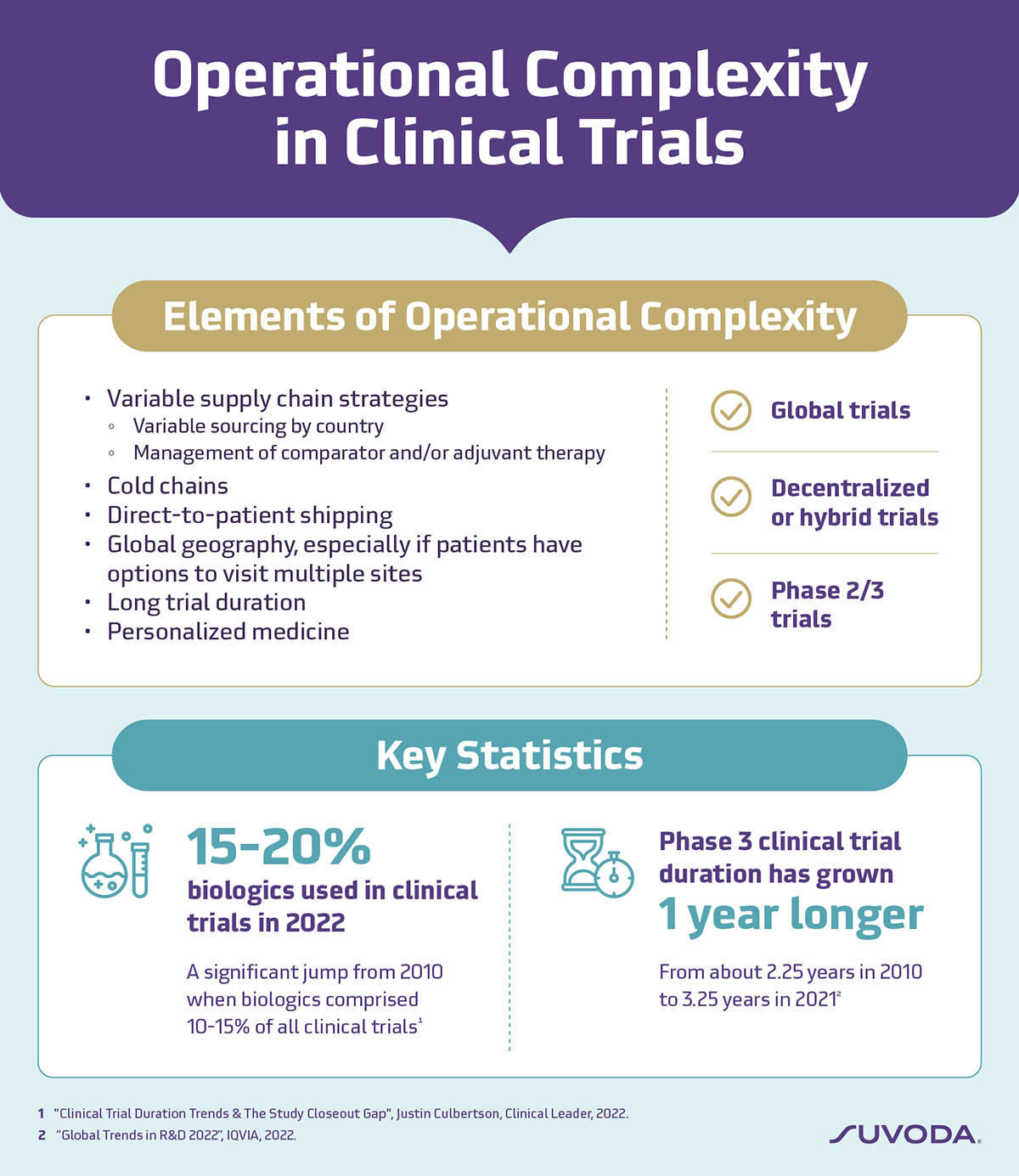 Two significant drivers of operational complexity are:
Global studies with multiple sites and long durations
Global geography poses significant operational complexities, from logistics to localization, further compounded by longer trial timelines. International multi-site studies, for example, require varied supply chain strategies with drugs sourced from different locations. This may change mid-study due to supply chain interruptions or production issues, necessitating the establishment of new supply relationships to ensure the timely delivery of drugs. The rise in complex specialty biologics—over 60% of new launches in 2022 are first-in-class and biologic products3—also necessitates advanced distribution and management systems to ensure that the right drug gets to the right patient at the right time.
There are also translation requirements for consent documentation and outcomes questionnaires to consider. For multi-site global studies with multiple consent documents and questionnaires implemented in various languages, the translation processes can quickly become overwhelming, especially when timelines are tight.
Over the past decade, Phase 3 clinical trials have lengthened by approximately one year, growing from about 2.25 years in 2010 to 3.25 years in 2021.4 Prolonged trial duration not only adds logistical complexity but also requires sustained engagement from patients and sites, potentially impacting study outcomes and patient retention.


The tech dilemma: Innovation vs. efficiency
The increasingly sophisticated technology tools to accommodate scientific advancements like novel therapeutics and new clinical endpoints also introduce operational complexity. While technology tools hold immense potential to enhance patient engagement and trial outcomes, adopting new hardware, tools, and processes takes time to scale because of the learning curve and additional work for study teams.
For example, decentralized and hybrid trials, which often rely on technology to facilitate patient participation, can be especially operationally complex. The key is to balance innovation with efficiency by utilizing technology that collects meaningful patient input, empowers patient knowledge, enables remote participation, and importantly, is straightforward to implement. When carefully planned and well-executed, patient-centric technologies—such as electronic Clinical Outcome Assessments (eCOA)—can be essential tools to enable productivity without making it harder to implement a study.



Simplifying complexity with purpose-built eCOA 
But, as with anything, not all technology solutions are created equal. A thoughtful, strategic approach to eCOA design can go a long way in reducing operational complications while providing reliable, actionable, and quality data that studies need for submissions and approvals.
To help the study team manage questionnaire stresses, an optimized questionnaire design and development tool allows questionnaires to be quickly deployed across multiple sites and countries and adjusted easily to accommodate mid-study amendments. Having experts manage the end-to-end process of questionnaire translations, licensing, and localization can also reduce process burdens.
Tech burdens can also be offset with single platform solutions that unify clinical technologies, like eCOA, eConsent, and IRT. The single platform approach can streamline operations as comprehensive data flows seamlessly between software tools, enabling users to view data from one interoperable system and reducing duplicate data entry and human error. Real-time data flow between IRT and eCOA also enables clean data transfer to an electronic data capture (EDC) tool to better manage patient and site compliance.
One way we're dealing with these issues at Suvoda is by designing our eCOA solution to remove the implementation challenges that plague so many existing tools today. Suvoda's solutions are delivered on a single software platform to streamline operations, and our eCOA minimizes questionnaire set up time, translation and deployment. We also draw on over a decade of trial logistics management to simplify global eCOA device logistics to ensure the right device is delivered to the right sites and study participants.
Enhancing patient experiences: Navigating complexity in clinical trials
It's clear that effectively managing operational complexity within trials hinges on leveraging proven technology like a well-designed eCOA. A review by McKinsey found that utilizing such decentralized technologies in clinical trials were valuable in driving patient engagement and compliance.5 Multiple studies have also shown that eCOA increases patient candor in reporting more (and severe) events compared to paper —providing study teams with more accurate data on drug efficacy.6 Improvements in patient-clinician interactions are also reported, as clinicians are more likely to discuss issues flagged by the automated system.7
As clinical trials continue to innovate and optimize patient-centric processes, Suvoda believes in finding harmony between smooth operations and practical technology use. The goal? A reality where trial operations and trial technology enhance the important work we do—advancing healthcare through robust clinical research.
REFERENCES
1 "The Innovation Imperative: The Future of Drug Development Part I: Research Methods and Findings." The Economist Intelligence Unit, 2018.
2 "CDER Patient-Focused Drug Development." U.S. Food and Drug Administration, 2022.
3 "Global Trends in R&D 2023." The IQVIA Institute, 2023.
4 "Global Trends in R&D 2022." The IQVIA Institute, 2022.
5 "No place like home? Stepping up the decentralization of clinical trials." McKinsey & Co.,2021.
6 Dallabrida, Susan M. "Improving Patient Engagement through ECOA." Applied Clinical Trials 26, no. 2 (2017).
7 Berry DL, Blumenstein BA, Halpenny B, Wolpin S, Fann JR, Austin-Seymour M, Bush N, Karras BT, Lober WB, McCorkle R. "Enhancing Patient-provider Communication with the Electronic Self-report Assessment for Cancer: A Randomized Trial." J Clin Oncol 29, no. 8 (2011).
---
Author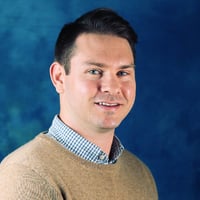 Zach Hales
Director, Product Management in Product Management
Suvoda
---