By Anthony Encarnacao, Vice President, Global Partnership Sales
The rising cost of clinical trials in recent years has increased the pressure to accurately manage drug supply. But managing drug supply while seeking to achieve patient service levels and minimize costs is not an easy task. Forecasting for supply has always been an important part of trial design and planning, but difficult to get right. Many companies complete this task manually or employ a simple forecasting system. However, these methods are time-consuming, subject to human error, and can be limited in scope.
In May, we announced an exciting partnership with N-SIDE, a deeptech powerhouse that is as equally committed as Suvoda to supporting strategic decision-making for clinical trial professionals. Enabling studies to future-proof their supply chain, the Suvoda-N-SIDE partnership offers studies new hope for measurable waste and cost reduction with a fully integrated forecasting and supply-chain optimization solution.
The Challenges of Existing Methods
Trial forecasting is a necessity to ensure enough drug is produced for the trial while minimizing waste. With many variables to consider, manual data entry into spreadsheets to calculate a myriad of data points from a variety of sources creates a significant opportunity for human error. Rerunning these calculations during trial conduct also takes time and expertise to know what to look for, and doesn't allow for the proactive identification of outliers and risks.
There are existing solutions designed to support forecasting, but these options can come up short in critical areas. One area is the requirement for inputs that should be included as outputs from a robust forecasting tool. For example, overages are often required as input and thus must be an assumption in the model. Risk assessments have also been very limited, not offering quantitative measures of drug shortage by location, cause of drug shortage, and the number of patients impacted. Demand uncertainties are also often not considered in the analysis, thus ignoring a significant risk factor. Additionally, traditional solutions may not be able to communicate the exact coverage of the supply strategy, thus leaving users unaware of how critical some real-time changes occurring in the study may be. To add to these challenges, most software solutions are not backed by significant consulting, change management and software implementation expertise, leaving customers to find their own way, even when they are relatively inexperienced with optimization and forecasting.
Once projections are ready for use, Interactive Response Technology (IRT) can be configured to align with the forecasted need. However, when mid-study projections identify the need for adjustments to drug supply, many IRT systems are not well equipped to handle change without a change order to reconfigure the system. It's this inflexibility, along with less-than-optimal forecasting, that can lead to risks of being undersupplied. To mitigate this risk, trial teams may oversupply leading to expensive drug waste. Bottom line is that traditional systems are not working as well as trials had hoped.
How Suvoda and N-SIDE Are Changing the Game
When N-SIDE's forecasting and optimization tools are combined with Suvoda's highly-flexible IRT system, the result is a complete solution that optimizes and automates the supply chain throughout the life of the trial. What makes this unique for clinical trials is the ability of study teams to monitor and make critical adjustments to drug supply, through advanced forecasts that are based on real-time data from their trial.
The experience begins in the study design stage. Trial teams leverage N-SIDE's advanced mathematical models and robust analysis to determine supply chain impacts of decisions about the protocol, kit design, country selection, and more. The result is a reliable strategy that positions the team to make smart planning decisions and IRT configurations that optimize key aspects of their drug supply.
But, as every trial professional knows, trial conduct often changes throughout the course of the trial. Even the best initial forecast cannot account for every variability. N-SIDE's proprietary algorithms provide a robust forecast for ongoing monitoring and timely adjustment of trial supply. This is where the Suvoda IRT and N-SIDE integration becomes even more valuable.
Once Suvoda's IRT is configured and trial conduct has started, the direct link from Suvoda delivers real-time IRT data to N-SIDE. Machine learning uses the data to re-evaluate assumptions about recruitment, demand, drop-out, titrations, weight, and other factors to continuously optimize the supply chain strategy. The easy-to-read dashboard can be used to make adjustments within Suvoda's flexible IRT, setting the trial on a course to have the right amount of drug at the right location, right on time.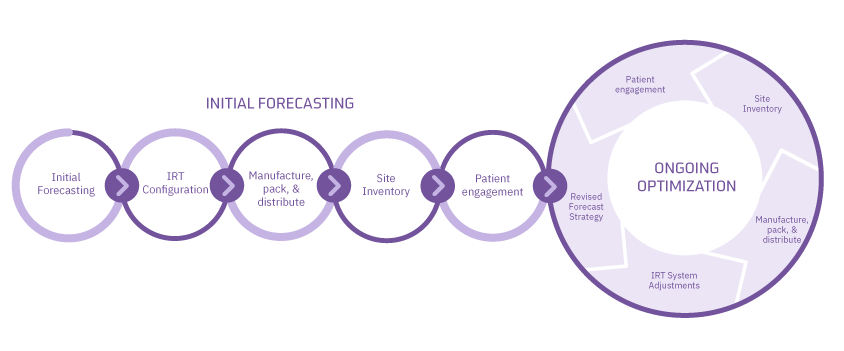 There are numerous system updates that can be done directly by users of the Suvoda IRT. Some of these self-service features include adding, activating, and deactivating sites, modifying study enrollment and screening limits, adding depots and modifying depot distribution, and much more. By giving teams the flexibility to make parameter changes as soon as they are needed, Suvoda's IRT helps keep trial timelines on track and diminishes the need for costly and time-consuming change orders.
The agreement between Suvoda and N-SIDE has generated enthusiasm for this unique approach to clinical trial optimization and resupply automation. The two companies have already partnered successfully on more than 100 studies. By leveraging N-SIDE's machine learning capabilities with Suvoda's real-time data, these trials have realized significant efficiencies in their supply chains.
"The work that Suvoda and N-SIDE have done to accelerate data integration between IRT and forecasting technologies is a game changer in the industry. We are able to pull Suvoda IRT site and patient actuals directly into the N-SIDE Supply App and quickly re-evaluate future projections through machine learning. This reduces resource workload while enhancing the quality of our clinical supply forecasts."

-Clinical Supply Chain Department Head
The power of two leading clinical technologies working together to solve common trial supply challenges has changed the playing field. With rich data, advanced forecasting, trial optimization technology, and IRT flexibility, it's far easier to keep a trial on track with the timeline while staying on budget.
---
Author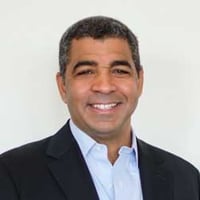 Anthony Encarnacao
Vice President, Global Partnership Sales
Suvoda