Author: E.K. Koh, Chief Product Officer
Over the last three years, there has been a growing effort to optimize the patient experience as hybrid and decentralized trials become the new norm. While digital health tools have undeniably played a role in improving this experience, it's important to recognize that we are just scratching the surface. To truly ease trial participation burdens for patients, technology tools must be deeply rooted in solving problems facing patients today.

Understanding patient pain points
From the moment they consider enrollment to ongoing outcomes reporting, participating in clinical trials presents several challenges for patients. Those challenges show up in:
Enrollment and comprehension

: Patients often face significant barriers during enrollment, which can include

finding trials relevant to their medical condition, understanding trial information, and grappling with complex consent documents. All these factors combine to create a process that can feel overwhelming and confusing.

Active and ongoing participation:

Once enrolled, patients encounter additional challenges that can impact their daily lives - from the burden of travel to time away from work to the associated costs. Managing the requirements of the trial or therapy can also create additional demands. For example, invasive procedures in oncology trials may lead to pain and potential complications, further dissuading participation.

1

Outcomes reporting

:

Completing questionnaires accurately and on time can be challenging for patients, especially those who are very ill. This can affect the accuracy of the data collected—a concern regulators like the Food and Drug Administration and European Medicines Agency have identified that requires attention from trial sponsors.

2,

3

A human-centered perspective
in trials
Digital technology can help solve each of these challenges. A 2019 Contemporary Clinical Trials Communications survey found that 88% of individuals aged 23 to 83 are comfortable using mobile applications.4 Another survey of adult patients showed that almost half of them have used technology to communicate with their healthcare providers.5
Designing digital tools around patients' needs can help give patients what they want and can help ease participation burdens at the same time. For example:
Flexible visitation and scheduling:

IRT can accommodate complex trial protocols and manage logistical challenges in decentralized or hybrid models.

Study teams can adjust visit schedules in real-time, and mobile and online technology can make visit reminders and scheduling easier. That adds up to making it easier for sites to adapt when a patient's schedule changes (for example, a cancer patient who cannot travel because of a bad day of symptoms)—ensuring that drug is ready and available when patients can be at the clinic. 

Convenient outcomes reporting

:

Instead of manually logging symptoms on paper or relying on memory when away from home during data capture times, eCOA allows patients to complete trial questionnaires remotely from any location. This flexibility supports patients and can help improve data accuracy. Combined with an IRT, sites can also make real-time dosing adjustments in response to patient data.

Improved accessibility

: According to a

JAMA study, enhancing the readability of informed consent documents could increase patient accessibility.6

An eConsent tool, for example, can give patients and their caregivers the flexibility to review consent documentation from anywhere in any language. It can also be augmented with FAQs or in context discussions to improve comprehension.

A unified approach to patient-centricity
While the tools above can help alleviate patient burdens in a trial, for sites to manage separate technology systems can potentially disrupt workflows and the overall patient experience. By centering both patients' and sites' needs, an end-to-end solution can work to not only ease the burden of participation but also places the patient at the heart of the experience.
A unified platform where eConsent, IRT, and eCOA work together seamlessly can remove the need for patients and staff to navigate multiple systems independently. This approach streamlines the entire trial process, from consent to data submission, aligning with the unique needs and preferences of patients. Patients initiate their journey by providing consent online, followed by eligibility screening and randomization— all within the same system. In decentralized trials, home visits become more manageable, and direct-to-patient shipping ensures timely receipt of necessary medications or devices. When it's time to report health outcomes, patients, caregivers, or clinicians simply return to the familiar platform. One system not only enhances the patient experience but also optimizes workflow for study teams.
This patient-centric approach can help ease the burdens of clinical trial participation, and ultimately recognizes that each patient is unique and valuable in the research journey.
 References
Wong, A.R., Sun, V., George, K.,

et al.

"Barriers to Participation in Therapeutic Clinical Trials as Perceived by Community Oncologists." 

JCO Oncology Practice

 

16

, no. 9 (2020).

"Core Patient-Reported Outcomes in Cancer Clinical Trials: Guidance for Industry."

Food and Drug Administration

. June 2021.

"

Appendix 2 to the guideline on the evaluation of anticancer medicinal products in man - the use of patient-reported outcome (PRO) measures in oncology studies."

European Medicines Agency.

2014.

Perry, Brian, Cindy Geoghegan, Li Lin, F. Hunter McGuire,

et al

. "Patient Preferences for Using Mobile Technologies in Clinical Trials."

Contemporary Clinical Trials Communications

. 2019.

Lee, Joy L., Rawl, S.M., Dickinson, S.

et al.

"Communication about Health Information Technology Use between Patients and Providers."

Journal of General Internal Medicine

. 2020.

Emanuel EJ, Boyle CW. "Assessment of Length and Readability of Informed Consent Documents for COVID-19 Vaccine Trials." 

JAMA Network Open

 

4

, no. 4 (2021).
---
Author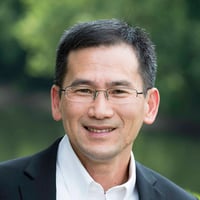 E.K. Koh
Chief Product Officer
Suvoda