Interactive Response Technology (IRT) was initially invented in the 1970s to prevent patient over enrollment at sites and reduce costs per patient and wasted drug kits. Since then, it has had a number of evolutions that have deepened its role in controlling key elements of clinical trials.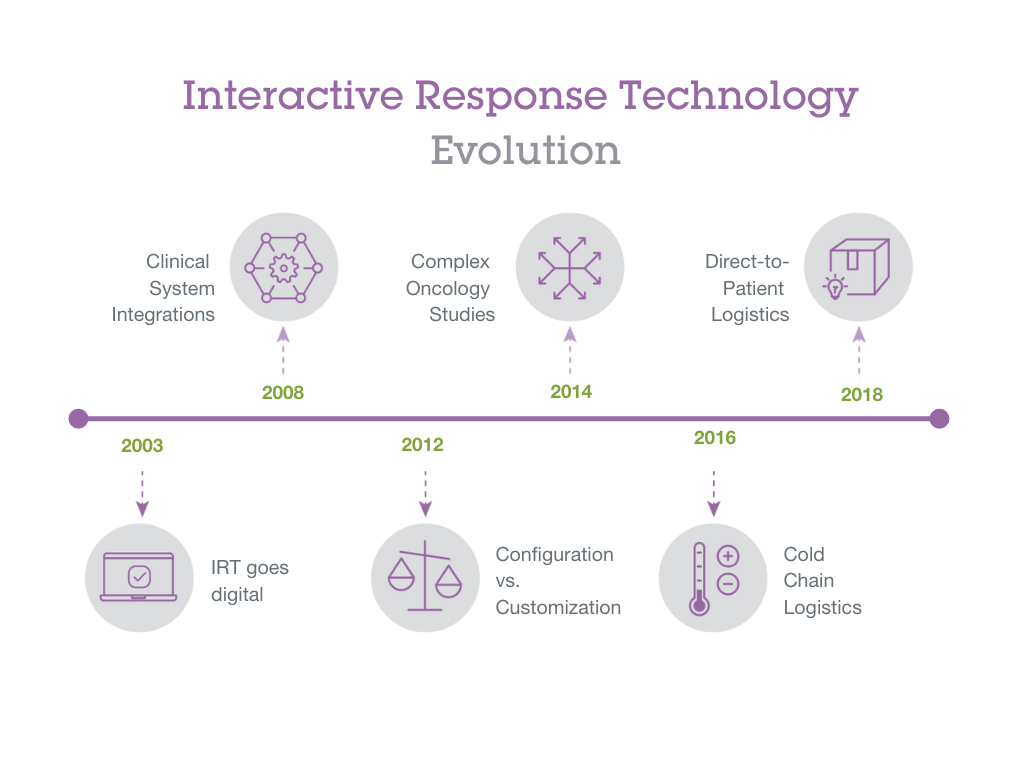 The first evolution in IRT was its change from using paper-based systems to managing transactions by phone—this began the era of interactive voice response systems (IVRS). Then with the advent of the internet in the 1990s, IRT transitioned again to begin the era of interactive web response systems (IWRS). This digital migration of IRT and other eClinical softwares such as EDC and clinical trial management systems (CTMS) allowed for integration across these systems. This has allowed for clinical teams to more easily manage data across platforms, leading to trials being managed more efficiently and allowing for more complex protocols.
Configuration vs. Customization
Over time, IRT has become increasingly known for the level of control it gives study sponsor teams as well as the sites they contract with for studies. Study protocols experience amendments that can change critical components of studies. Because of this, IRT systems have adapted increasingly over time to give users more flexibility in configuring changes as they need. More configurable systems reduce time and costs for studies. By reducing expensive change orders to modify components of IRT software, systems can quickly adapt to changing needs throughout a trial's progression.
Complex Oncology Studies
Cancer is one therapeutic area where studies demand a lot of flexibility in IRT systems. Oncology studies have grown significantly in complexity over time. Some studies, for example, allow patients to continue on treatments after their initially planned 'cycle' of visits for the trial ends. Many oncology studies have become adaptive in nature to allow for treatment arms and cohorts to be phased in and out in order to test treatments across a variety of tumor types and genetic factors. These decisions to modify treatment arms and/or cohorts are often made as interim statistical analysis that indicates whether treatments are working for patients in these different groupings. As such, IRT has developed functionality to accommodate complex oncology studies.
Temperature Logistics
Research medicines have become increasingly sensitive to temperatures. This is due in large part to pharmaceutical and biotechnology companies developing fewer small molecule drugs and instead concentrating on more large molecule biologics that are more complex and delicate in nature. IRT integrates with site and shipment-oriented temperature management systems to give sites and sponsors more visibility into when drug kits are damaged and either need to be quarantined or destroyed. This allows for accountability of temperature-sensitive medicines to be handled more efficiently in IRT systems throughout studies so that site teams can focus on patients and other critical study logistics.
Direct-to-Patient Logistics
In recent years, clinical trial sponsors have begun using direct-to-patient shipments. Direct-to-patient can reduce or eliminate the amount of travel to clinical sites throughout the trial, which enables sponsors to recruit patients across wider geographic areas. As IRT centralizes supply and patient logistics, IRT has easily incorporated direct-to-patient shipment into its functionality. When COVID-19 made it more difficult for patients to come into clinical sites, many studies adapted or otherwise built in the ability to offer direct-to-patient shipping as needed.
As a result of continual innovation, IRT can more easily help manage data across different systems more efficiently, it can streamline and automate the workflows for study and site teams, and it can accommodate more complex study protocols to help sponsors answer more questions in less time. As the nature of clinical trials continue to evolve, IRT systems will continue to become more flexible and robust to adapt to the changing needs of the supply chain, study teams, and their sites.