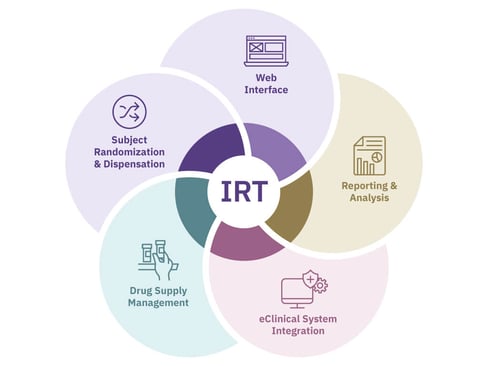 IRT stands for Interactive Response Technology. Another term that has been used to describe this technology is 'randomization and trial supply management'. Essentially, IRT helps clinical trial sponsors and sites manage the patient and drug supply logistics throughout a clinical trial. Because of its ability to offer control and flexibility while increasing efficiency, it has served a vital role in helping pharmaceutical and biotechnology companies organize data to mitigate risk and to reduce time and costs in their trials.
Patient Management
The protocol describes how the study will be designed and executed and the type of trial determines what treatment the patient will receive, whether it is the Investigational Product (IP) or the comparators (existing medicine known as standard of care or placebo in case there is no existing treatment for the disease).
The IRT system manages randomization of patients into particular treatment arms to make sure they receive the drug, combination of drugs, or placebo based on that treatment arm. It helps sites schedule patient visits from initial screening until the end of treatment. IRT also helps to maintain blinding by making sure that specific roles in a study (e.g. clinical research coordinators) do not know the treatment that each patient is receiving.
IRT uses the trial protocol's method of randomization to sort patients evenly. Randomization is intended to reduce bias in trials, to maintain balance of enrollment of different patients across treatment arms, and to ensure that statistical testing is free of particular assumptions. Overall, randomization is essential to testing the general efficacy of a treatment.
Drug Supply Management
IRT enables clinical supply managers to call for shipments of supplies to sites, and can also trigger automatic shipments from depots to sites. As such, it houses important shipping details so that supply-oriented end users know when shipments are generated at depots and other useful tracking information.
Once shipments arrive at clinical sites, the IRT helps sites and sponsors manage inventory at the site. This helps optimize the amount of drug kits at sites to align with patient enrollment levels at each site, and can trigger automatic shipments or notify drug supply managers when sites are running low on necessary supplies.
IRT provides an accountability system for when drug is returned to sites by patients or for any drug the site does not use. The IRT system helps end users reconcile those unused drug units, so that they can be accounted as safe for dispensation to patients. If the drug kits in question are determined as unsafe, the IRT helps users account for whether they are destroyed on site, or sent to a destruction facility for proper disposal.
The IRT system of today is also capable of managing protocols with complex dosing regimens that change based on protocol needs. For instance, an IRT system may calculate dosage levels based on the weight of each patient. It can do this by integrating with electronic data capture (EDC) systems that house patient information such as weight that is relevant to measuring the safety and efficacy of the drug(s) being studied.
Reporting and Analysis
In housing and organizing patient and drug supply data, IRT is also an important tool for analyzing a study's effectiveness across its sites so study teams can optimize trial conduct. This data can also be used during inspections and audits when study teams need to demonstrate compliance to national and regional regulations.
Learn more about the evolution of IRT
---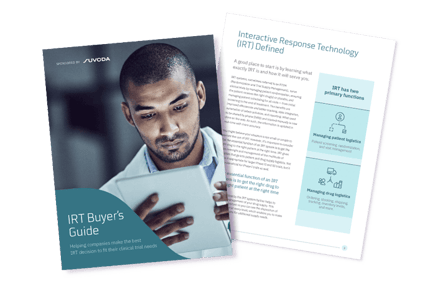 FREE EBOOK